Jiangsu.NET Score


| | |
| --- | --- |
| Location: | Wuxi |
| Address: | Luoyan Hill, Zhuling Village, Yixing City, Wuxi, Jiangsu 214233 |
| Fee: | 80 Yuan/ticket, Children under 1,2 m for free entry |
| Operation: | 7:00 – 17:00, Monday to Sunday, the best season to visit: Aripil to October |
| Route: | Tourist Bus No. 2, to the cave |

---

| | |
| --- | --- |
| Phone: | 86-510-8739 1169 |
| Email: | |
| Website: | |
The cave's name was given in a legend that Shanjuan, an early sage living in a primitive society 4,000 – 5,000 year ago in Chinese history, resided in this cave after he refused an appointment from the King of Shun. The earliest records of speleology of the cave started in the Third Century and numerous explorations and researches of all aspects of the cave came after. Shanjuan Cave, or Shanjuan Dong, can be divided into three levels. The two lower levels of the cave are developed as a showy cave in a typical Chinese way with colored neon lights. The cave's main entrance is at the middle level with a huge entrance hall of about 1,000 square meters, depicting poems painted on the walls in calligraphy, most of which originated from the Liang and the Tang Dynasties. A warm passage follows from the entrance and it has a temperature of about 23ºC all year round. It features up to seven meters high stalactites. The lower level cave is named the Waterfall cave, which takes in water from an 120 meter high waterfall. The path descending to the lower-level cave can only be traversed by boat. The boat sometimes passes a low-ceiling point and the exit, called the Sudden Light, is reached in an abrupt surprise: the passenger is now on the ground. The famous Shanjuan Cave, with other two nearby caves, Linggu Cave and Zhanggung Cave, are all in Yixing City under Wuxi's jurisdiction.
Comments
Make one-day-schedule to tour three caves in Yixing.
---
Back to home page
Advertisement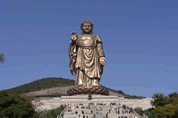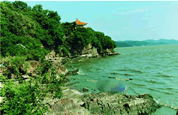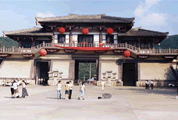 Advertise
Web Services
Live Poll
---