Jiangsu.NET Score


Location:
Wuxi
Address:
Lingshan Road, Hubing District, Wuxi, Jiangsu 214091, P.R.China
Fee:
50 Yuan/ticket
Operation:
6:30 – 18:00
Route:
Bus No. 88 or 91 (at Wuxi Railway Station)
Taxi: all taxi drivers know it.

---
Located in the Maji Mountain area, the Lingshan Grand Buddha is one of the most renowned tourist attractions in Wuxi, Jiangsu Province, together with the nearby historic Xiangfu Temple, a thousand-year old Buddhism temple. With more than 80 meter high, the Grand Buddha is a bronze Sakyamuni standing Buddha and was built at the end of 1996. Lingshan Grand Buddha lies in the Small Lingshan named by the famous Great Monk Xuanzang in Tang Dynasty. The Buddhas are made of tin, bronze, created, and completed according to the record of the Buddhist Scriptures Tathagata 32 Images. Standing solemnly at the site of famous Tang Dynasty Xiangfu Temple, the Grand Buddha is pleasing to tourists, widely looking at all the living creatures. The left and right hands have hand print with "wish", wishing the world happy and welfare and the character on the Buddha's front chest represents solemnity and virtue. With the nearby Lake Taihu and a beautiful range of hills, the Lingshan Buddha is a symbol of Wuxi and attracts visitors nationally and internationally. During Spring Festival, travelers from around the world come to Xiangfu Temple to listen to the tolling of the bell, believed to bring good luck. The bell, at 3.5 metres in hight and weighing in 12 tons, is the biggest in South China.
Comments
Highly recommended national 4-AAAA tourist attraction. Known as the city's symbol. The tallest copper standing Baddha Statue. Near two millions of visitors each year.
---
Back to home page
Advertisement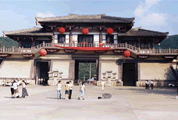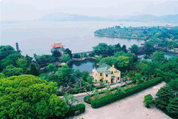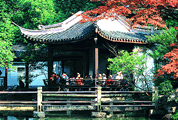 Advertise
Web Services
Live Poll
---